Description
For Lever Action Rifles WITHOUT Swivel Studs
No front swivel stud?
No problem!

Need to attach your sling but lack a forearm swivel stud? A Magazine Tube Clamp is the solution.
Magazine Tube Clamps (sometimes called Barrel Bands) are a time tested, proven design.
The two piece configuration securely fastens to your magazine tube providing the necessary attachment point for a sling swivel.
Sizing adjustment and clamping pressure achieved via the jack screw heel.
Made in the United States of America.
(Please note that our Harnessed Rifle Slings already include the required Magazine Tube Clamp. This listing is for the purchase of additional clamps.)
Q: WILL MY MAGAZINE TUBE BE DAMAGED?
A: No. With proper sizing and installation the clamp should not move under normal use. Having sold thousands of these with our rifles slings we have never had anyone report marring or scratching of the magazine tube.
Q: WHAT'S INCLUDED?
A: The two piece clamp and a 3/32″ hex wrench. Sling Swivel(s) are NOT included but may be purchased separately.
Q: WHAT ARE MY CHOICES OF FINISH?
A: Paraphrasing Henry Ford – "You can have any color you want, as long as it is Black."
Q: WHAT ACCESSORIES ARE OFFERED?
A: Please see the "ACCESSORIES" tab above for sling swivels.
The following accessories are available and can be purchased separately.SLING SWIVELS for use with standard swivel studs or magazine tube clamps (barrel bands). These 1″ Sling Swivels are Made in U.S.A. Click Here for the complete independent product listing.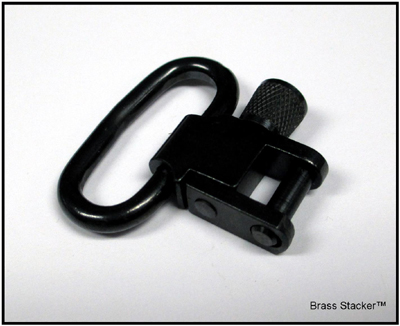 *Calibers listed in the table below are for general reference ONLY.
DO NOT rely on rifle caliber to establish the clamp required. We highly recommend you measure the outside diameter of your specific magazine tube regardless of caliber.
Magazine Tube Clamp Table
CLAMP #
DIAMETER RANGE
*GENERAL REFERENCE CALIBER
244
.410″-.470″
.17HMR, .22S/L/LR, .22MAG
420256
.540″-.590″
.357MAG
265
.610″-.670″
.30-30, .357MAG, .44MAG, .45COLT
272
.700″-.750″
.45-70GOV'T, .454CASULL
282
.750″-.800″
.45-70GOV'T