Description
Brass Stacker™ Mil-Std 1913 Picatinny Accessory Mounting Rail

Made in America with a 100% Lifetime Warranty
*Dimensions shown in image at left.
Our high strength pic rail profile conforms to MIL-STD 1913 and is cold drawn extruded here in the United States from our own dies using low carbon steel. This raw blank extrusion is a lightweight (.5267 oz/in) with a minimal mass cross section (.1158 in²) and is just 5/16″ in overall height or thickness. Recoil grooves conforming to MIL-STD 1913 are then machined as well as weight reduction and mounting holes. For corrosion resistance and reduced light glare, we use a hot oxidizing process (MIL-C-13924) to produce a black oxide iron magnetite (Fe3O4) finish.
We offer both finish machined & plated Picatinny Rail Sections and raw extruded Picatinny Rail Blanks in the length shown below. Note: we can also supply longer lengths of raw extruded Picatinny Rail Blank. Please call for a quote.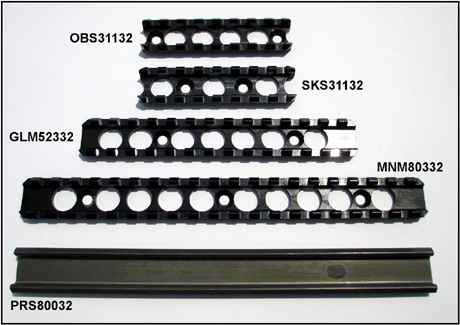 PICATINNY RAIL OPTIONS

SKU

LENGTH

# MOUNTING HOLES

MTG HOLE SPACING

WEIGHT

OBS31132

3.3″
2
2.75″
1.0 oz

SKS31132

3.3″
2
1.25″
1.1 oz

GLM52332

5.7″
2
2.75″
1.8 oz

MNM80332

8.1″
3
2.75″
2.7 oz
*

PRS80032

8.0″
n/a
n/a
4.2 oz
*PRS80032 is a saw cut length of blank extrusion. It has no mounting holes and has not been machined or plated. The extrusion surface has a "waxy" film from lubrication applied during the manufacturing process. It will need to be thoroughly cleaned prior to any painting or plating.
All mounting holes are .203″ (13/64″) diameter and are countersunk for a flat head screw (i.e. #10 or smaller)
Mounting screws are NOT included!