Description
Scope your Mosin while preserving its historic integrity.
***PLEASE READ SPECS & FITMENT NOTES BEFORE PURCHASING***
There is no need for bent bolt handle with this mount.
---
Why consider a "Scout" type setup for your rifle?
A LER (Long Eye Relief) optic, or Scout Scope, mounted forward of the receiver provides a substantial uninterrupted overall field of view. This unconfined environment results in greater situational awareness allowing for fast target acquisition and shots taken with both eyes open. This configuration has additional advantages for bolt action MilSurp (military surplus) rifle platforms as it does not interfere with spent casing ejection, straight bolt handles or stripper clip use.
---
FEATURES:
Allows for mounting of Scout Scope or other long eye relief optics on your military surplus Mosin Nagant model M91/30 and M91/59 without the need to drill & tap receiver or make any permanent modifications to the firearm. It is designed to fit over rear sight block in order to allow for continued use of the original fixed/iron sights up to 100 meters. Mount and MIL-STD 1913 Picatinny 8″ rail are rigid steel construction with Black Oxide finish. 100% Lifetime Warranty!
Fits:
M9130, M9159
SPECIFICATIONS:
The Mount will accommodate a front to back (horizontal) pin center distance of 1.39″ (35.3mm) to 1.82″ (46.7mm) and allows for .039″ (1mm) of up and down (vertical) movement. The Mount is designed to fit over rear sight blocks that measure between .750″(19.05mm) and .787″(20.00mm) wide. The total weight including hardware is 5.5 oz. We have made every reasonable effort to ensure that this product will fit the majority of M9130's. However, due to the large number of these firearms produced over many years around the world, it is impossible for us to allow for all manufacturing variation. Bolts are Grade 12.9 medium carbon Q&T alloy steel hardened to Rc 38-44 and have a tensile strength of 177000 psi. Tightening torque is 1.67 ft lbs. Proper tightening of all hardware should result in no movement of the mount during normal firing recoil. If for any reason our Mount does not work with your specific 9130 it can be returned (undamaged) for a full refund.
INCLUDED: All necessary hardware, hex wrench, drill (provided to clean out or straighten existing pin holes), punch (light duty punch not designed for difficult to remove pins such as those soldered) and complete installation instructions.
MOUNT DOES NOT INCLUDE SCOPE & RINGS!
FITMENT NOTES:
This mount will NOT work for the M38, M44 or T53. Nor will it work for an M91 with Chatellerault or Konovalov type rear sight block! See Model MN384453SSM for a M38, M44 or T53.
The pin holes in the rear sight block are often located inconsistently as a result of the original manufacturing process. The two holes are frequently not parallel to each other and may be out of alignment or skewed. The mount can only accomodate so much of this misalignment. You should measure the center distances from pin to pin on both sides and check those with the dimensions listed in the SPECIFICATIONS to ensure that the mount will fit properly. A 3mm drill is provided and can be used to clean out and straighten (to some degree) without enlarging the pins holes once the pins are removed. The pin holes for the rear sight block are generally .118″(3.0mm) in diameter and the supplied 3mm bolts have a nominal OD of .115″(2.92mm). This tight fit along with the use of an appropriate liquid thread locker for the screws and nuts, as well as proper tightening of the same should result in no movement of the Mount during normal firing recoil. Occasionally the rear sight block itself, as it sits on the barrel dovetail underneath, can be out of alignment with the bore axis. This condition, if extreme, can adversely effect how the Mount sits. Please note that some rifles may have pins holding the rear sight block to the barrel soldered in place. Instructions for correctly applying the required heat to remove the solder are provided for use at consumer's discretion. Also, some may have pins that require the use of substantial force to remove. This should be done with a heavy duty punch (not supplied). The supplied light duty punch is NOT designed for difficult to remove pins.
Please refer to mount "Specifications" to determine the acceptable amount of deviation for the conditions listed below. IMPORTANT! If your rifle has a condition as described below that will not allow the MN9130SSM Mount to work… please see our MN39SSMR Universal Fit Anchor Point Series mount.
FIGURE 1) A single pin holding the rear sight block to the barrel will not allow the MN9130SSM mount to attach properly. **The mount can be used as a template to drill a second hole with the supplied drill bit at consumer's discretion.
FIGURE 2) Pins not perpendicular or skewed to bore centerline can result in the MN9130SSM mount not fitting properly.
FIGURE 3) Pins not the same distance from bore centerline can result in an unacceptable degree of up or down "Pitch" making the MN9130SSM mount hard to level front to back.
FIGURE 4) A rear sight block that does not run parallel with bore centerline can result in an unacceptable degree of right or left "Yaw" making the MN9130SSM mount lead off to one side.
FIGURE 5) Pins higher on one side from bore centerline than the other side can result in an unacceptable degree of "Roll" making the MN9130SSM mount hard to level side to side.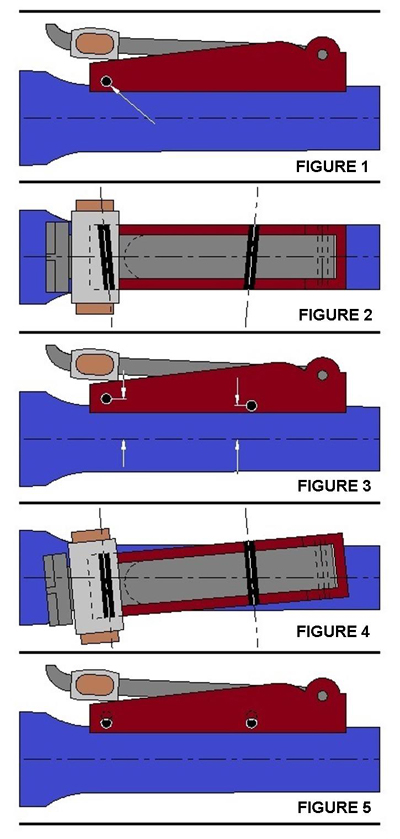 NOTE:
A MAPP (Methyl Acetylene Propadience Propane) gas torch and heavy duty punch may be required to remove existing pins from the rear sight block if they are soldered in place. You can usually find these items at your local hardware or plumbers supply. The application of heat, if done properly, will not cause damage. Keep in mind that you only need to reach the melting point of the solder and that this same temperature was achieved during original construction without adverse effects. Procedure provided in supplied instructions.
Any scope or mount that suffers an impact should not be trusted to be accurate. If you feel your mount has been compromised you can still use your original open iron sights. Design subject to change without prior notice. Caution! Improper installation or use may result in damage to property, severe injury, or loss of life. If for any reason this product does not function properly, discontinue use immediately. Always practice proper SAFETY and ensure an UNLOADED condition before beginning installation.
DUE TO AVAILABILITY, WE REGRET THAT WE CAN NO LONGER OFFER THE MOUNT/SCOPE COMBINATION AT A DISCOUNTED PRICE. SCOPES ARE SOLD SEPERATELY HERE.