Description
Scope your SKS while preserving its historic integrity.
"ANCHOR POINT" Series – See Through Design
• Innovative "Anchor Point" design provides superior mount stability
• See-thru design for continued use of fixed iron sights
• No permanent modification of firearm required*
• Allows for complete field stripping without mount removal*
• Will not interfere with stripper clip use*
• Does not contact stock
• Casing Deflector available for long tube optics
• Rigid all steel construction, includes 5/16" x 3-5/16" Picatinny Rail
• Cross bolt nut spanner wrench is included
• Unit comes loosely preassembled
• Made in America with a 100% Lifetime Warranty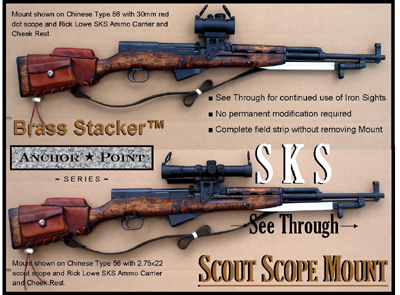 ---
Why consider a "Scout" type setup for your rifle?
A LER (Long Eye Relief) optic, or Scout Scope, mounted forward of the receiver provides a substantial uninterrupted overall field of view. This unconfined environment results in greater situational awareness allowing for fast target acquisition and shots taken with both eyes open. This configuration has additional advantages for bolt action MilSurp (military surplus) rifle platforms as it does not interfere with spent casing ejection or stripper clip use.
---
*Please note certain restrictions as follows: Mount for use with original wooden stocks. Lack off "interference" applies to "mount" only. Optic interference (with disassembly of gas tube or use of stripper clip) may occur depending on optic type, optic length/diameter, ring height, etc. Compact, red dot or reflex type optics can typically be positioned avoiding any interference. Stripper clips CANNOT be used in conjunction with Casing Deflector. PLEASE READ FITMENT NOTES BEFORE PURCHASING! If you intend to use a long tube optic, the Casing Deflector  (model # SKSCD) is highly recommended.
FEATURES: Product provides for the mounting of scout scope, red dot / reflex type or other long eye relief (LER) optics to SKS rifles without the need to drill and tap the receiver or make any permanent modifications to firearm. It is designed to use the cross bolt (sometimes referred to as the recoil lug) as the primary attachment point and securely installs over rear sight block.
FITS:
Russian 45, Chinese Type 56 (Non-Norinco) and Yugoslavian 59/66
Unit is shipped with a variant specific cross bolt.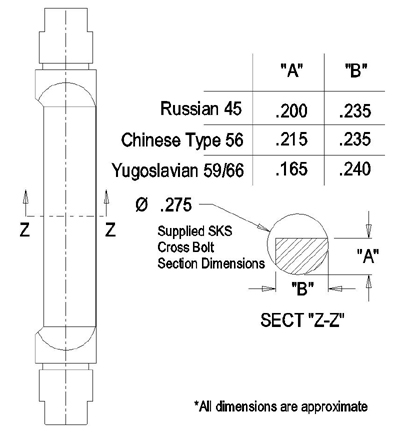 SPECIFICATIONS: The mount will accommodate a front to back (horizontal) distance of approximately 1-5/8″ to 1-3/4″ from the center of the cross bolt to the center of the rear sight block ladder pivot. It also allows for an up and down (vertical) distance of approximately 1-9/16″ to 1-15/16″ from the same. The total weight is 5.8 oz.
INCLUDES: All necessary hardware, hex body cross bolt nut spanner wrench, required hex wrenches and installation instructions.
MOUNT DOES NOT INCLUDE DEFLECTOR OR SCOPE & RINGS!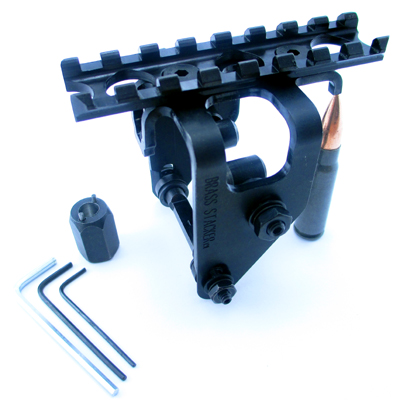 FITMENT NOTES:
We have made every reasonable effort to ensure that this product will fit the majority of SKS rifle variants (Russian 45, Chinese Type 56 [non Norinco], Yugoslavian 59/66, etc.). However, due to the large number of these firearms produced over many years around the world, it is impossible for us to allow for all manufacturing variation. This mount will NOT work for NORINCO / CSI / KSI SKS's. As with any of our products, it may be returned undamaged for a full refund. Proper tightening of all hardware should result in no movement of the mount during normal firing recoil.
NOTE:
Any scope and/or mount that suffers an impact, should not be trusted to be accurate. If you feel your mount has been compromised, you can still use your original open iron sights. Design subject to change without prior notice. Caution! Improper installation or use may result in damage to property, severe injury, or loss of life. If for any reason this product does not function properly, discontinue use immediately. Always practice proper SAFETY and ensure an UNLOADED condition before beginning installation.
Click here to view the installation video for the SKS Scout Scope Mount
Please call us at 828-665-4427 with any installation questions you may have.
Spent Casing Deflector Model # SKSCD<<DETAILS
(recommended if using a long tube optic)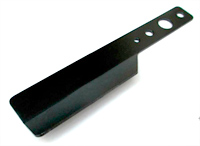 DUE TO AVAILABILITY, WE REGRET THAT WE CAN NO LONGER OFFER THE MOUNT/SCOPE COMBINATION AT A DISCOUNTED PRICE. SCOPES ARE SOLD SEPERATELY HERE.